Women Annual Convention London Recap
This year's convention was the kick-off event for our international post-pandemic roadshow.  
For over 15 years, the Global Trade Chamber has helped international entrepreneurs to start and grow successful businesses.
4 years ago the Global Trade Chamber we launched a new division, the 100 Successful Women in Business Network to connect, empower, and inspire women entrepreneurs worldwide. 
For five days, women entrepreneurs had the opportunity to meet with other extraordinary people and receive intensive training on growing their businesses.
During the convention, we recognized successful women from around the world.
Our global roadshow journey takes us to London for the first time, and it was amazing!
We arrived at Heathrow Airport, the largest of the 6 international airports serving London.
On the way, we saw many great historical buildings, the famous 2-decker red busses, the iconic black taxis, and people driving on the left side of the road everywhere.
During the first evening of the event, we had a beautiful Welcome Reception for our international delegates and their guests on the famous river  Thames that was hosted by Ladies of All Nations International (LOANI). 
On the second day, we had a very memorable Exclusive City Tour of the major attractions in London, by our official transportation company YG Travel, where our delegates enjoyed wine, sightseeing, and picture taking wearing the special 100SWB London Shirts.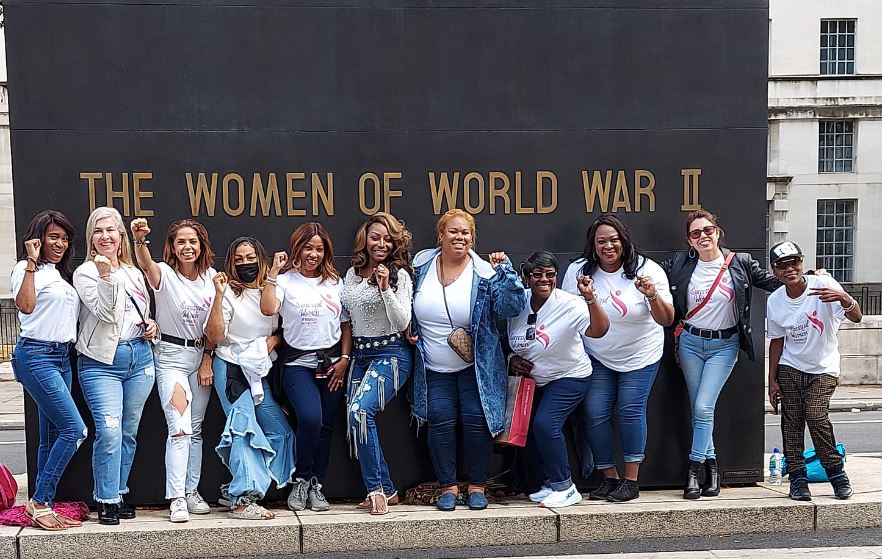 A very beautiful experience that included the London Museum, London Eye, BIG Ben, Tower of London, Buckingham Palace, Tower Bridge, The Shard, Palace of Westminster (home of the UK Parliament), Trafalgar Square, London Bridge.
Day 1 Started with the famous  Ribbon Cutting Ceremony with our hosts, sponsors, and VIP's including The Mayor of Barnet London, Councillor Alison Moore.
The Powerful Plenary Conferences by our amazing ladies from many nations and industries shared their knowledge, experiences, and life-changing tips for the attendees.
We also had the Business Expo with several vendors who had great products and information .
One of the most important activities at all our events is relationship building and networking. 
During the second day of the conferences, our amazing ladies conducted their presentations together with our excellent Keynote Speaker Mya Smith Edmonds, multi-unit McDonald's restaurant owner.
After the morning presentations, we had the official 100 Most Successful Women Around the World Book Volume 2 Launch. This powerful book is now available on Amazon. This book  is filled with incredible testimonies of successful ladies with valuable information for entrepreneurs to go from scratch to success.
The much-anticipated Awards Dinner Gala ceremony. It started with the famous Red Carpet and a beautiful violin player presentation that welcomed everyone.
All guests, recipients, and sponsors walked on the Red Carpet to take pictures in their beautiful red gowns.  
Finally, the Award Ceremony starts!
We had a tremendous Gala, where all the recipients came to the stage to receive their awards, walk the runway, and pose for pictures.
We had the international fashion show, a beautiful dance group presented by the Philippines Department of Tourism
After the awards, everyone came on the stage and the runway to celebrate. The evening ended with our Founder and CEO Maria-Renee Davila, dancing, as others joined her to close this fabulous, beautiful celebration of Amazing Incredible ladies from around the world. Get ready for another breathtaking, and memorable Convention in 2023. Stay Tuned…
Special Thanks to the Photographer Monika Schaible
Women in Business Convention for the first time in London, UK